'Gym closed' – Coronavirus leaves local boxers with no place to go
Steve Bunce – Boxing writer for ESPN writes
The fighters still went to the Islington Boxing Club in north London on Thursday night. They stood in a huddle, read the sign and looked at the padlock on the gym door: "GYM CLOSED."
It was a deathless message.
The street lights lit up their little gathering and then they faded away, back home to local flats. Some had to get on the bus, some took the tube, and all of them were heading away from their boxing gym — a sanctuary for many of them. There is no date set for a return to their special place, no date for when the locked doors at boxing gyms will be open again.
Editor's Picks
In south London, Carney's Community gym in Battersea had to reluctantly close its doors and turn away its members, including the boys and men who had been referred to the gym by police, courts and prisons. The gym is the last resort for many of the people who get an invite to go through the door — and that door is now locked and bolted. Two sides of London, same dilemma as the coronavirus crisis takes hold.
"On the Thursday we closed and it was not easy," Mick Doherty of the Islington club said. "We shut before we were ordered to and that is because the gym is not just a boxing gym, it is much more than that; there were the boxers in the championships and others that need the gym — it is a lifeline for people.
"We have boys in the quarterfinals of the National Championships and we couldn't tell them to stop training until we were all told that there would be no championships. Those nationals might be the greatest achievement of that boy's life — how could we close the door before we had to?
"And we have boxers who live on their own and the gym might be the only time they interact with people all week. It might be their only social contact. It was really not easy to close the door, but we had no choice and we kept it open as long as possible. Some people were critical of us for keeping it open, but we had to try."
A few miles south and across the River Thames, not far from the multimillion-pound houses that crowd the riverbank, the boxing gym at the centre of the Carney's Community projects had to close their doors and shut out people that they were working with.
"Stopping the boxing session has had a far bigger impact on our participants than just restricting their opportunities to train," George Turner, co-founder of Carney's Community, said. "The gyms are a safe place, run by positive role models, where people come to train, socialise, communicate, get advice and guidance, and most importantly somewhere where they feel welcome.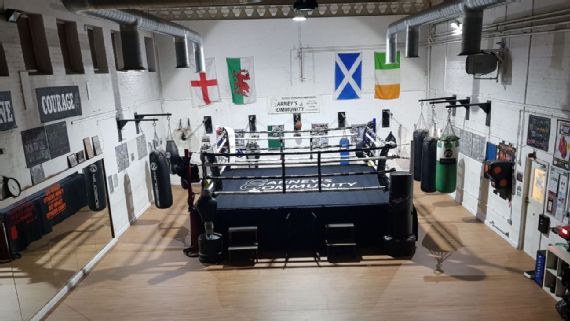 "Many of those we work with will say the gym is like a second — in some cases, a first — home, with the coaches and other boxers being like family members. The harsh reality is that many live in homes where they suffer from poverty, abuse and/or neglect. So their only safe place is the gym."
There are front-line testimonies that are harrowing.
The men and women that run the gyms — professional, amateur and also some of the strict keep-fit versions — are all offering the same disturbing tales about the men and women who have been locked out. Both the trainers and key workers at Carney's Community and the Islington club are staying in touch with their boxers. It is essential that they do.
It is the same in the professional game, with trainers and managers on the phone to their fighters to check on their fitness and their state of mind. Tyson Fury has said that the gym and the daily sessions he has are his rehab — he has also said that on Sundays, when the gym closes, he still gets anxious.
Brian Hughes, an ancient sage in Manchester, a genius trainer and motivator from the boxing world, has always said that the dangers are not in the gym, not in the ring, but outside on the streets. "In here, they are safe and out there they are at risk — it doesn't matter how tough they are in here, out there they are in danger because of where they come from," Hughes said. And he has lost a lot of boxers that way.
"The coaches are in touch with the boxers now, checking up on them and making sure they stay healthy," Doherty added. "The streets are out there and we want to keep all of our boxers when the doors open again — we want to see them all back. We don't want to lose one to the streets. That's why we are here, that's what we do."
The nostalgic image of a boxing gym, in an old basement or railway arch, with a dozen men hitting away at a few swinging bags and in the background two men sparring in a tiny, dirty ring, is nearly extinct. Even the ancient sweatshops, gyms where fighters have prepared for 50 or more years, have adapted and, during the last 10 years, the number of boxers with medical cards, fit and ready to fight, has increased. But the desire of the men and women walking through the doors hasn't changed. And these gyms continue to change lives.
"We have boxing toddler classes for kids aged 4 to 8 and we have the outreach programs in schools and places with schemes for young offenders," Doherty added. "We have about 300 active boxers and then we have the different keep-fit members — people of all levels and I'm sure some have their problems.
"The gym opens at 7 in the morning, can close at 10 at night. There are close to 1,500 members, that's people involved with the club. All sorts of people; bankers, builders, orchestra members, former gang members — all under our roof. It is part of the community, any community."
In Battersea, Turner is keeping tabs on all his men and women. He has been at too many funerals already, the victims caught in simple postcode violations, gang affiliations or just dumb, bad luck.
"As soon as we can take the locks off the door, we can get back to what we do — our main aim is to turn them into good and successful human beings," Turner said. "Some might excel at boxing, but that is not all we do; boxing gyms are not just about making boxers."
There is a different boxing clock ticking now, ticking down the days and weeks before the doors reopen. They will reopen, but it will not be easy as both Carney's Community and Islington Boxing Club have had to cancel crucial fundraising events.